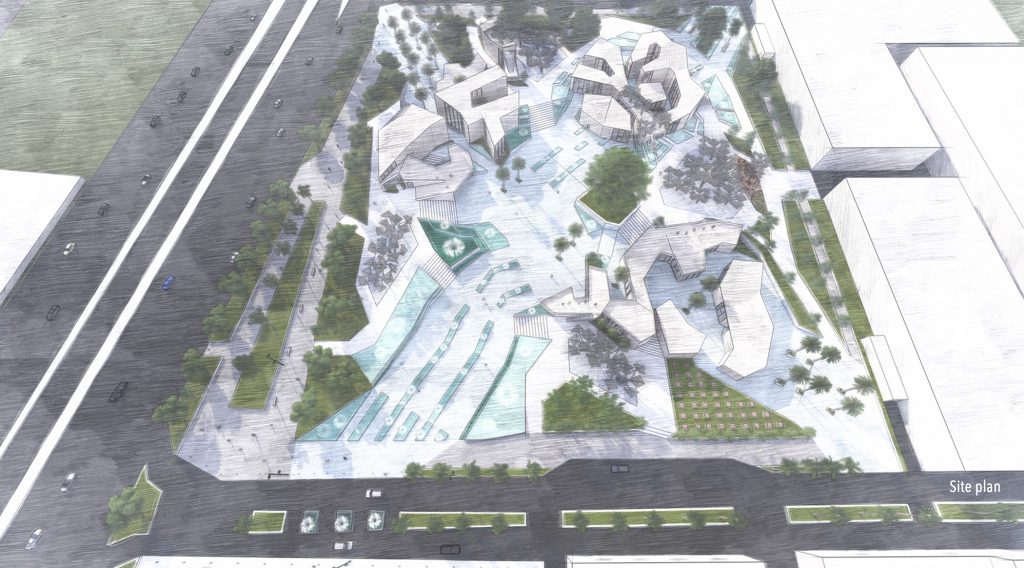 Maryam Aljufairi won the inaugural AEB Architecture Excellence Prize in 2018 (©DAUP-CENG-QU).
The Department of Architecture and Urban Planning, College of Engineering at Qatar University is pleased to showcase the best graduation projects on our Senior Project Blog including winners of the AEB Architecture Excellence Prize and the CENG Senior Project Awards.
Each year, the seniors of our five-year Bachelor of Architecture (B.Arch.) program with NAAB International Certification complete a Senior Project during their final year. The process occurs across two semesters in the ARCT 511: Senior Project Preparation & Programming (Fall) and ARCT 512: Senior Project (Spring) studios. The purpose is for students to demonstrate their mastery of the field of architecture before their entry into the profession.
The AEB Architecture Excellence Prize recognizes excellence in design and education displaying exceptional approaches to the design of the built environment. The goal is to promote and share architectural experience and knowledge among young architects and academics in Qatar. The award celebrates those who push boundaries and set new standards.
2021-2022 Lolwa Al-Mohannadi (1st Prize), Doha Elsaman (2nd Prize), Fatima Al-Emadi (3rd Prize)
2020-2021 Moza Al Obaidan (1st Prize), Aljazi Al-Naimi (2nd Prize), Saaeda Al-Bader (3rd Prize)
2019-2020 Canceled due to COVID-19 Global Pandemic.
2018-2019 Maryam Al-Kuwari (1st Prize), Fatma Alyafei (2nd Prize), Nancy Makhoul (3rd Prize)
2017-2018 Maryam Aljufairi (1st Prize), Aisha Alkawari (2nd Prize), Almaha Alyafei (3rd Prize TIED), Maryam Al-Sulaiti (3rd Prize TIED)
The CENG Senior Project Awards for the Department of Architecture and Urban Planning recognize students who have achieved the highest standards of mastery of their field in their graduation project.

Qatar University, Department of Architecture and Urban Planning has received the International Certification designation from the National Architectural Accrediting Board for the Bachelor of Architecture (B.Arch.) program. IC was granted in 2018 for a term of six years.
The term "International Certification" identifies a program as comparable in educational outcomes in all significant aspects to a program accredited by the NAAB in the United States and indicates that it provides an educational experience meeting acceptable standards, even though such program may differ in format or method of delivery. The designation is valid for six years beginning 1 January of the year in which the final visit (Visit 3) took place. In order to maintain the designation, the program must be visited again in the sixth year of the designation.
Schools with programs identified as International Certification are not formally "accredited" as that term is used with reference to programs in the United States and may not refer to their programs as "accredited" by the NAAB. However, students who graduate from International Certification programs are able to apply for individualized review of their credentials on an expedited basis for purposes of the Educational Evaluation Services for Architects program administered by the NAAB on behalf of the National Council of Architectural Registration Boards.